Constellation 13 So Say We All
The upcoming convention will be held on April 19-21 of 2024.
We will once again be at the Cornhusker Hotel in Lincoln NE.
Registration is open at pre-convention rates of $5 off the at the door price for weekend badges.
Constellation 13 Badge Prices (At the door)

| | | | | |
| --- | --- | --- | --- | --- |
|   |  Weekend |  Friday |  Saturday |  Sunday |
| Adult (14+) |  $50 |  $15 |  $25 |  $15 |
| Youth (4-13) |  $25 |  $5 |  $15 |  $5 |
| Child (0-3) |  Free |  Free |  Free |  Free |
For at the door Adult weekend registrations, we offer a $5 discount for current students, active military, and veterans (at most one discount applied)
Guests of Honor:
Programing:
Panels make up the majority of our programming during the event. These may be presentations by an individual/group, it may be a forum of discussion between a few people on the panel, possibly it is a interactive session with the audience, or it might be a workshop for some skill. Some of them are done by our Guests of Honor, however many more of them are done by the community.
If you would like to run a panel please fill out this form.
Art Show:
Art from local and national, amateur and professional artists are on display and some of the artwork is for sale. Most of the art is hung on art flats so they are easy to view, the remainder of the art is included in the "print shop". The Print shop generally has less expensive versions of art from the artists.
Each piece of hanging art on display may be for sale, the artist gets to decide per piece if it is for sale. If it is for sale you may be able to directly buy it if it has a sale price, or you may be able to place a bid on it if it has a minimum bid (if it has both, the minimum bid price is significantly less than the buy price.) If someone has placed a bid on a piece, you can bid against them, but it can no longer be bought outright.
Some pieces including all that receive multiple bids, will go to the art auction to allow all those who are interested to bid on them.
Would you like to show your art, or know more about the Art Show
Dealers Room:
Here you can buy books, swords, crafts, shirts, home decor, desk toys, art, and much, much, more. Many of our dealers make the items they sell and some will do custom orders. We frequently host a Guest of Honor table where you can shop their work as well.
Gaming:
Running all weekend, some scheduled games that you can get a seat at, others that are pick up games of who is there.
Gaming is fun
Something that's a well known fact
So come up, let's play

We have card and board
Video as well
And yes RPG

Take a look below
At the list which you can see
Showing sample games

Dungeons and Dragons
Anomia and Munchkin 
Dominion and Fluxx

Battle of Hogwarts
Timelines and MTG too
Yes there's much to do

Questions or comments
Suggestions and yes requests
Email is below

Email us at gaminggroup@constellationne.net.
Highlighted Events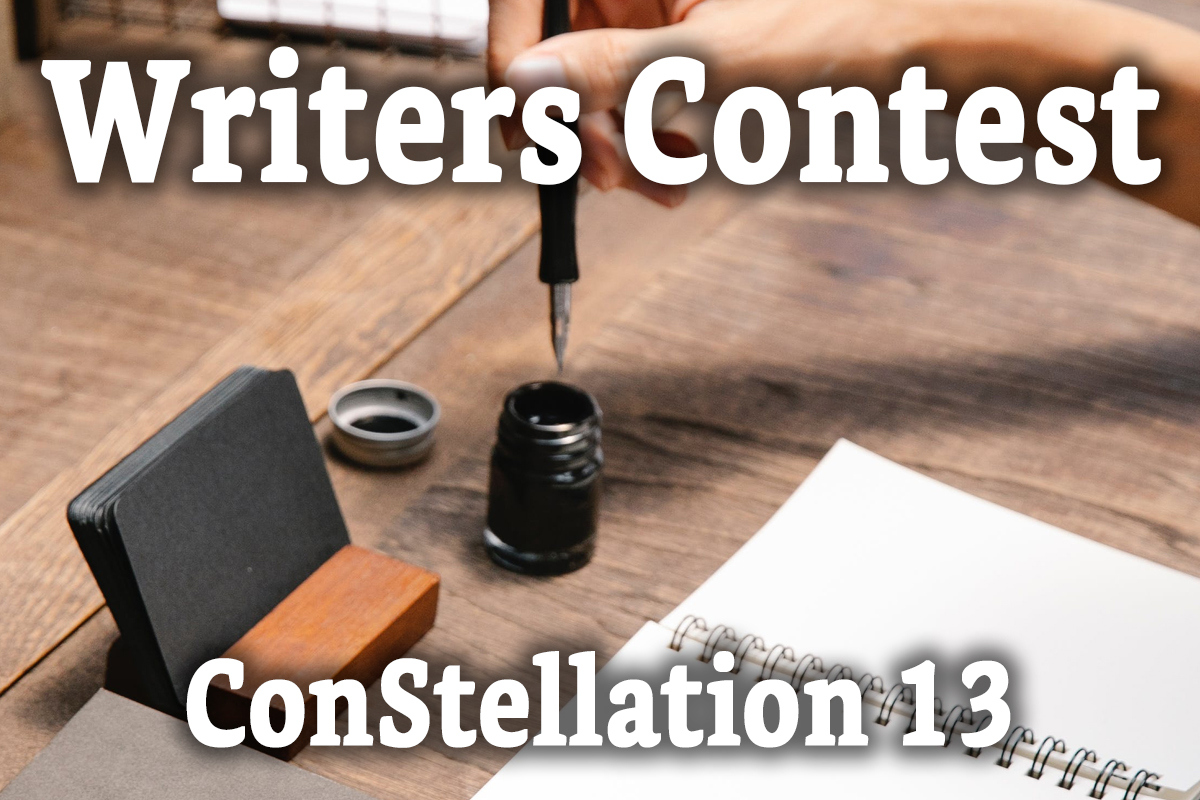 Attention writers of all ages and experience levels! ConStellation wants your unpublished science fiction and fantasy stories (5,000 words or less) and poetry (up to three poems) for our annual Bryce Pfeiffer Memorial Writers Contest. Winners will receive a free weekend registration to ConStellation 13 in Lincoln on April 19-21, 2024, a gift card, and recognition during opening ceremonies. Winning works will also be published in our con program book or on our website. 2024 will be here before you know it, so get writing!
Winners Announced at Opening Ceremonies, Readings during a Special Panel
Cosplay Contest - Saturday afternoon
Come support and cheer on your favorite cosplayers as they show off their crafting and performance skills and compete for a number of prizes! Do you want to compete yourself? Be sure to check-in with cosplay contest staff by applying ahead of time online, or on Friday or Saturday morning for last minute signups.
Art Jam - Saturday afternoon
A 2 hour block for artists and those interested in art to work on art, to discuss technique, and to enjoy the craft together.
Art Auction - Saturday evening
Many of the pieces of art in the art show will go to the art auction.  Come for your chance to acquire that piece that you really want, and for the energy and excitement of the event.  It's an event that many con-goers would not miss.
Opening and Closing Ceremonies - Friday evening and Sunday afternoon
Capstone events for the convention to kick it off, and to wrap it up.